AN ELIXIR OF LIFE IN CHESTNUT TREES
A mythological serum that could enhance the human body in strength, resistance and longevity, the Super-Soldier Serum. I bet you have heard about it!
Well, there is a real one in the "universe" of plants. It's not about myths or even lab tests but we can surely find it in some lucky species as a natural organic compound.
That's the tannin! An Elixir of Life that flows in many plants and specially within the European Sweet Chestnut Tree. The concentration of tannin in chestnut timber is much higher then other kinds from the Fagaceae's family.
Tannin is an antioxidant substance classified as polyphenol that flows within the tree in every single element, including cortex, roots, rhizomes (which are little stocks full of nutritious lying under the soil) fruits, leaves and the inside wood, of course.
However, what makes the tannin so special?
The Tannin's Protective Power
Because of its chemical compound, tannin is the best defender of plant species as Universities of Florence, Milan and Padova have pointed out in some evidences. It is an essential catalyst of cellular regeneration but it also acts like an excellent shield against bugs, bacteria and fungi.
More than 90% of bacteria get killed thanks to the tannin's ability of penetrating the bacteria "armor" which covers the entire cell. It is able to pass through the cell membrane up to the internal area where it interferes with the metabolism of the cell, destroying it. The process could be more or less quick, depending on the type of bacteria that lives within that specific ecosystem: there are cells with only one membrane, like the Staphylococcus, and others with more levels, see the Escherichia coli.
The Tannin's Mediating Power
Tannins are "semiochemical" substances. They are able to carry biological information useful for the interaction between living organisms in order to evoke physiological and behavioral responses. We could say they act like pheromones produced by animal glands to transmit messages towards counterparts referring to fear, danger or even sexual sensations.
The main difference is that tannins can build interactions between several plant species but also from the biological kingdom of Plantea to the Animalia's one. This incredible factor makes tannins perfect messengers other than great protectors of the plant's world.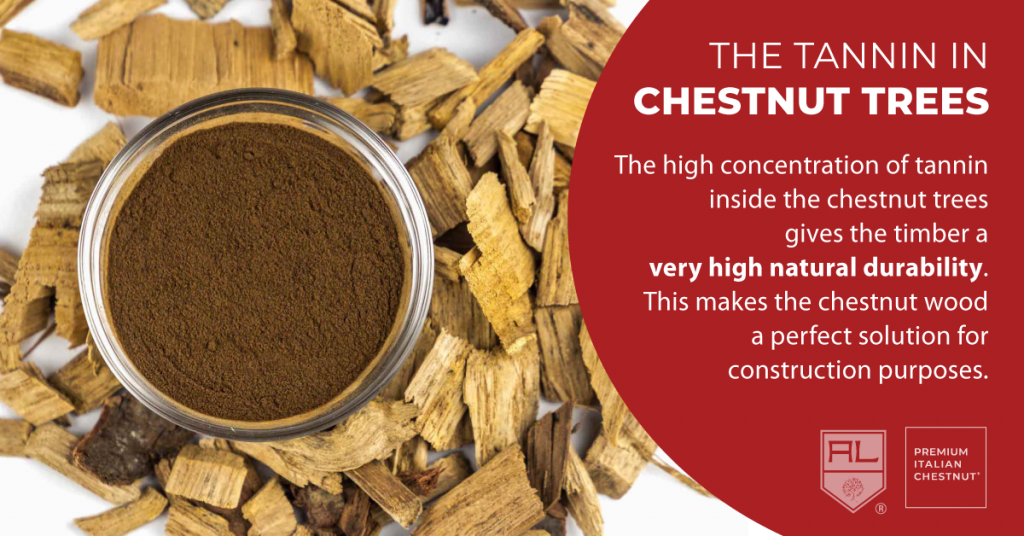 Tannins in Global Economy
This Elixir of Life has an incredible flexibility of use and it is very adaptable giving so many benefits that it can be used in several sectors and contexts such as beauty treatment, animal nutrition (men included), vegetable tanning of leather and many other applications.
Tannin is an excellent natural supplement in animal diets, even a better solution instead of modern chemical antibiotics, favoring the digestive process in numerous species: some studies from the University of Florence pointed out how this natural compound acts with the concentration of nitrogen in sheep, cows and chickens nourishment. In this way, they can better metabolize what they eat, giving back milk, cheese and meat products with 7-10% protein content increase.
All these benefits concern men's food habits too. Indeed, introducing tannins into our nutrition could be a really good way to improve our wellness in everyday life. A totally natural supplement that we can use as antioxidant and aromatic agent (astringent flavor) in fruit juices, infusions and teas.
Beyond the important innate qualities, choosing products with tannin in it means favoring a sustainable economy model where natural renewable resources are recognized as essential valuable asset that we must safeguard, just like Sweet Chestnut Trees.
Tannin e Chestnut Durability
We have already described tannin as a real Elixir of Life for most of plant species and the Chestnut tree is the first evidence. In terms of benefits, it enhances one of the most important morphological feature in Chestnut timber, the durability.
All Sweet Chestnut trees include the highest concentration of tannin inside their tissues, compared to other elements from the Fagaceae's family: more than 7% of the total volume. This great concentration lends the wood an extremely high level of natural durability which makes the chestnut a perfect solution for structural purposes. The related ability to endure fungi, bacteria and bugs brings this excellent wood essence to the podium of the best timbers for green construction applications, considering all the possible structural shapes.
Features like durability and lightness are only a few peculiarities which make chestnut the best choice for building covering and coating or, moreover, interior design features and naturalistic engineering works.
For more information and other curiosities from the world of Tannin, you might discover the extraordinary work in the Tannins project by clicking HERE.
Click HERE if want to learn more about technical properties of our Premium Italian Chestnut, and follow us on Facebook, Instagram and LinkedIn for news and detailed topics on the Chestnut Culture.