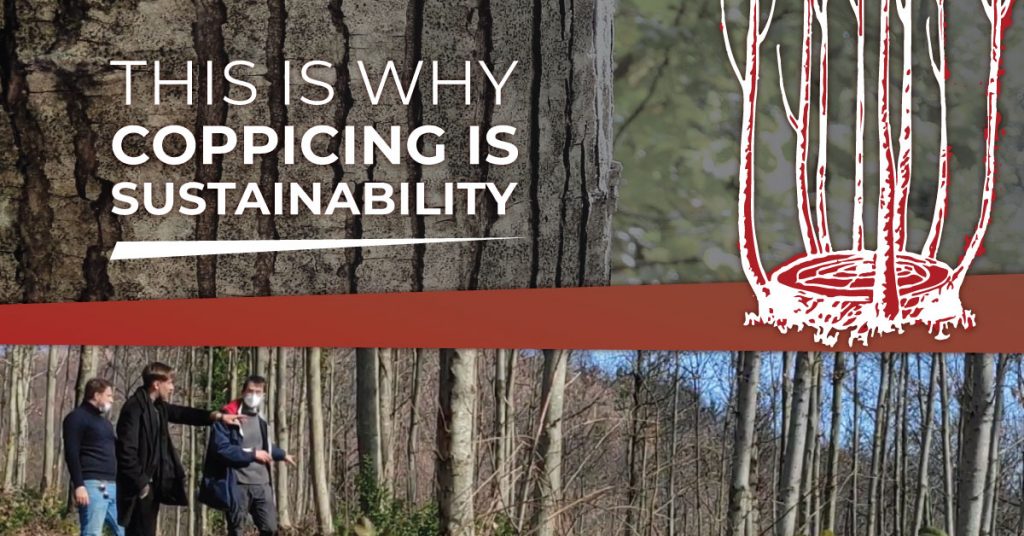 Why is coppicing a must and not a threat?
First of all, what is a coppice forest?
The coppice forest is the result of one of the many known cultivation forms of woods, which is based on the typical feature of many broadleaf trees to produce new stems from the stump, once it is cut. This is a millenary tradition that has allowed – and still allows – the use of woody and mineral raw materials.
People who observe a coppice-governed forest are impressed by the "luck of green" that results from it, but they don't actually know what they're seeing: coppicing means controlling and ensuring a healthy growth of vegetation by promoting a continuous and abundant flow of nutrients to the main plants, called Matricina.
These Matricina provide the necessary regeneration to replace aged stumps that have lost their polliniferous capacity, provide biodiversity through pollination, and help prevent soil erosion by maintaining some degree of cover at all times.
With the specific modalities and in the suitable places indicated by the European regulations, the coppice allows the forest to renew itself very quickly and to develop vigorous stems of 10 meters in a few years with an average of about 1.5 meters every 5 years.

Coppicing is essential to avoid an overabundance of "harmful" stems that would not allow the freshman to develop adequately, increasing the risk of disease and restricting the natural quality of the woody tissue.
The health, maturity and continuous reproduction of the forest is our FIRST objective, indeed our first necessity, not only as producers and manufacturers of buildings, furniture and tools with a natural precious and infinitely recyclable material, but especially as responsible for our presence on this planet.
We must always remember that if we want to fight our current major challenges such as climate change or even the massive abandonment of mountain areas, sustainable forest management is one of our main allies.
Would you like to know more about the cultivation and production of our Chestnut? Click HERE and discover the Premium Italian Chestnut® quality. Also, follow us on our Facebook and Instagram pages for news and insights on the Chestnut Culture.
Don't miss our other publications:

50 SHADES OF CHESTNUT
THE 5 PILLARS OF SUSTAINABILITY – PEFC
CE MARKING CHESTNUT TIMBER
7 REASONS TO CHOOSE SOLID CHESTNUT
THE ECONOMY OF CHESTNUT
THE POWER OF TANNIN
A CHESTNUT RECORD
BACK TO THE WOOD